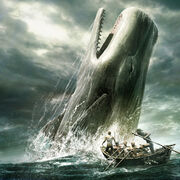 While Carousing in Kaja, Inardal encounters an old Whaler by the name of Rikas Russ in the Warm Hearth Inn.
He tells a tale of a Huge Norwhale that took his crew, and his arm. He says that the Norwhale must have the remains of his crew's treasures trapped in it's gullet - as he has seen many Norwhales with treasures trapped there.
In this particular case Russ is certain that a magical ring, worn by his ship's mage will be there. It allowed the mage to breathe and move underwater as if he were above land.